Radical Reconciliation: From Risks to Rights Without Having to Say We're Sorry.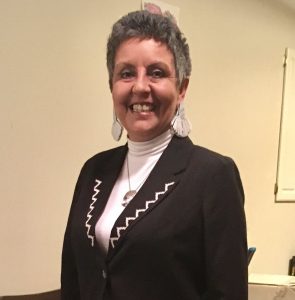 Featuring: Dr. R. Lisa Bourque-Bearskin, RN, PhD
June 13th, 2019
4 pm York University Bergeron Centre
Reception to Follow
The inaugural June Awrey Lecture joyously coincides with the School's 25th anniversary celebrations.  Given the enormous significance of the Truth and Reconciliation's recommendations for health care professional education, the school will welcome Dr. Lisa Bourque-Bearskin, RN, PhD as our inaugural speaker to continue the critical discourse and curricular adjustments rooted in decolonizing nursing and health care that are underway.
BIO:
Dr. Bourque Bearskin a Cree/Métis Nurse from Beaver Lake Cree Nation, and Associate Professor at Thompson River University, School of Nursing, has devoted her life and career to improving Indigenous health. Dr. Bourque Bearskin's leadership in bringing together networks of community researchers is remarkable. She currently holds a number of grants funded by the Canadian Institute health Research – Institute for Indigenous Peoples, the Michael Smith Foundation for Health Research and Thompson Rivers University where she initiates community-led research by Indigenous communities. She mentors students and faculty to advance Indigenous nursing research to promote reconciliation and decolonization. She conducts collaborative research with communities, students, and faculty to identify opportunities for meaningful health research that is driven by community-generated priorities. She leads political and social innovation through informal and formal nursing organizations to advance positive change in nursing using Indigenous pedagogies, ethics, and research to enhance understandings of Indigenous nursing knowledge, Indigenous social determinants of health and Indigenous wellness that maintains cultural integrity of nurses practice and supports Indigenous sovereignty. While Dr. Bearskin is humble, her peers celebrate her exemplary contributions in developing Indigenous-nursing knowledge through research, curriculum development, scholarship, and research to inspire positive change within our discipline and society. ve commenced in the school.
ABSTRACT:
"Radical Reconciliation: From Risks To Rights Without Having to Say We're Sorry."                                                                                                         
Social justice is the cornerstone of nursing care; it requires nurses to acknowledge that health risks are inherently tied to the environmental, cultural, social, economic, and political systems of personal agency. Nurses witness the outcomes of social injustice on a daily basis. Here in Canada, the legacy of colonization places the burden of illness and premature mortality on Indigenous peoples. Characterized by poverty, crowded housing, and lack of basic sanitation infrastructure, these social inequities lead to preventable and devastating injustices (Greenwood, 2019, Allen & Smylie, 2015). Marking a turn in Canadian's collective social consciousness and commitments to social justice, as demonstrated by the amalgamation of Health Canada's Indigenous Health Services program, adoption of new legislative Indigenous rights and language policy, and the development of tripartite provincial health care agreements show a transformed commitment to reconciliation. This presentation will focus on calls from nursing leadership for health systems to deliver high quality and culturally safe services through policy development when working with Indigenous populations in Canada. Rooted in authentic life-giving forces from Indigenous nurses' own experiences, language, and culture as touchstones to uncovering truth and dismantling systemic barriers to decolonization, and Indigenization while reconciling the ascriptions that have been embedded into the flesh of Indigenous peoples working toward "achieved wellness" (Dion Stout, 2012). Actions that will not further marginalize Indigenous knowledge systems but rather confront the political and ethical tensions poised in nursing practice will be explored.

Learning Objectives:
1. What are the implications of reconciliation, decolonization, and indigenization in academia?
2. What are the challenges and successes of implementing the United Declarations on the Rights of Indigenous Peoples in Nursing Education?