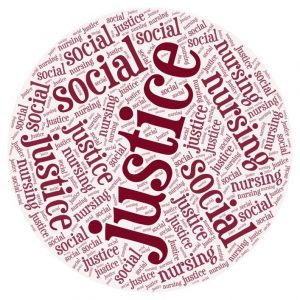 The 2019 Social Justice Nursing Conference
June 13th, 2019 York University, Keele Campus 
at York University's Bergeron Centre for Engineering Excellence 
   Program at a Glance*
Opening Plenary -
"We See and Are Not Silent! Nurses' Role in Social Justice: Lessons Learned from Nurses for Social Responsibility."                                               
  Featuring  Kathy Hardill and Cathy Crowe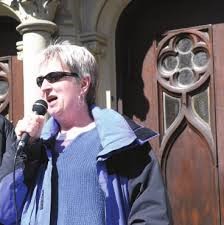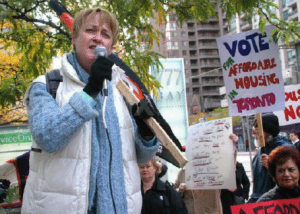 Kathy Hardill, RN(EC), NP-PHC, MScN Nurse Practitioner Lead/Clinical Director,Peterborough 360 Degree Nurse Practitioner-Led Clinic.
Kathy has been a Registered Nurse since 1987 and a Nurse Practitioner since 1997. She specializes in the health care of people who are homeless and others whose health is made vulnerable by structural risks. She has interwoven nursing and health activism through her involvement with Nurses for Social Responsibility; the Ontario-based Street Nurses' Network; the Toronto Disaster Relief Committee; and Health Providers Against Poverty – Ontario. She believes that health is political and that nursing, while frequently situated downstream, must work upstream to ensure access to the social determinants of health for all.
Cathy Crowe, RN, BAAN, MEd, C.M. Distinguished Visiting Practitioner, Politics and Public Admin, Faculty of Arts, Ryerson University
Cathy is a long time Street Nurse and activist. She has co-founded numerous advocacy initiatives including the landmark campaign by Toronto Disaster Relief Committee to have homelessness declared a national disaster. She has received the International Centre for Nursing Ethics Human Rights Award and the prestigious Atkinson Economic Justice Award. She holds an honorary doctorate from York University School of Nursing. Cathy is also an author (Dying for a Home: Homeless Activists Speak Out) and documentary filmmaker (Home Safe Calgary, Home Safe Toronto).  Her work is the subject of a moving documentary 'Street Nurse' by filmmaker Shelley Saywell. Her nursing memoir 'A Knapsack Full of Dreams' will be released spring/summer 2019.
FINAL PROGRAM IS NOW AVAILABLE - SEE LINK BELOW. 
The Social Justice Nursing Conference BOOKLET FINAL IN PDF MAY 22
POSTERS
 (12) Exploring Western and Indigenous research methods to facilitate engagement of underrepresented female cancer survivors in studies of CAM therapies.
 (18) A critical examination of the leadership experiences of African Nova Scotian nurses in health care practice.
 (26) Exploring the influence of socio-cultural factors on equitable access to social participation in dementia support programs among Canadian immigrant and refugee populations.
 (36) Apprehension of a newborn at birth: Maternal experiences.
 (40) Attending to the bereavement needs of prisoners.
 (41) Fostering cultural competence through interprofessional collaboration as a strategy to promote social justice.
 (43) What influences the life satisfaction among the migrant elders in southern China?
 (45) Stakeholders' perceptions of barriers and facilitators to equitable access to naloxone in Ontario.
 (49) ROOT: a Rural approach to treating opiate use 'dis'order.
 (50) Resisting paternalism through qualitative research: Survivors disclosing stories of domestic violence.
Closing Plenary -
Radical Reconciliation: From Risks to Rights Without Having to Say We're Sorry.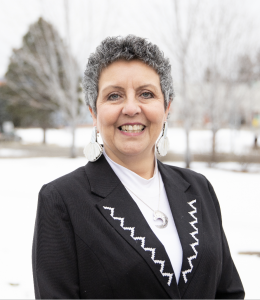 Dr. R.Lisa Bourque-Bearskin, RN, PhD, Past President Canadian Indigenous Nurses Association.
Dr. Bourque Bearskin a Cree/Métis Nurse from Beaver Lake Cree Nation, and Associate Professor at Thompson River University, School of Nursing, has devoted her life and career to improving Indigenous health. Dr. Bourque Bearskin's leadership in bringing together networks of community researchers is remarkable. She currently holds a number of grants funded by the Canadian Institute health Research – Institute for Indigenous Peoples, the Michael Smith Foundation for Health Research and Thompson Rivers University where she initiates community-led research by Indigenous communities. She mentors students and faculty to advance Indigenous nursing research to promote reconciliation and decolonization. She conducts collaborative research with communities, students, and faculty to identify opportunities for meaningful health research that is driven by community-generated priorities. She leads political and social innovation through informal and formal nursing organizations to advance positive change in nursing using Indigenous pedagogies, ethics, and research to enhance understandings of Indigenous nursing knowledge, Indigenous social determinants of health and Indigenous wellness that maintains cultural integrity of nurses practice and supports Indigenous sovereignty. While Dr. Bearskin is humble, her peers celebrate her exemplary contributions in developing Indigenous-nursing knowledge through research, curriculum development, scholarship, and research to inspire positive change within our discipline and society.
*We are so glad you are interested in our conference. We hope you will join us. The Final program is now available and is posted above.  Note: the conference committee SUCCESSFULLY applied for and SECURED funding to pay for ASL interpretation. As per the process, we are now asked to inquire if there is a need for ASL interpreters, or these professionals do not provide a service without an expressed need. All registrants were emailed for this purpose, so as to determine expressed desire for ASL interpretation.